Ever felt like you've only just scratched the surface of a higher ed software platform, leaving you with that unsettling feeling that you're not actually getting the best bang for your buck? It can be difficult to figure out the full range of capabilities of a tool, let alone massive software applications commonly used in higher education. Sure, you can get a 30-day free trial, but good luck trying to figure out whether or not a platform that extensive is worth it in just 30 days.
As an enrollment professional who oversees admissions, email communications, social media, customer relationship management (CRM) tools, events, webpages, and marketing outreach (and probably more), there's something to be said about finding that one tool that brings all of these facets together – a platform that can do it all. And while there are many higher education software platforms out there, few have all of the features to match all of the hats you wear.
We get a lot of questions about HubSpot and Slate, two commonly used platforms in higher education. How do Slate and HubSpot compare? Which platform should I use for which enrollment marketing communications? I'm here to break down each of these enrollment marketing platforms and explain how Slate and HubSpot differ (and why you shouldn't try to use them for the same enrollment purposes).
Did you know? HubSpot and Slate DO integrate! Learn how higher education is using HubSlate to automatically seamlessly integrate these two popular higher education platforms.
What is Slate?
Slate is a comprehensive Customer Relationship Management (CRM) and Admission Management platform that stores information about prospective students, applicants, and enrolled students, including their interests and behaviors. Slate is built to host your school's application, manage enrolled and prospective student information, and even send out admissions decision communications. For everything Slate is, it's not a marketing tool.
What is HubSpot?
When you think of HubSpot, you should immediately think of top-of-the-line marketing automation (and CRM, CMS, social media, chatbots, and analytics). HubSpot is great for attracting prospective students, converting them into applicants, and delighting them once they become enrolled students. While HubSpot is a powerful content marketing platform, it's not an application management tool.
Read our blog, HubSpot for Higher Education, to learn about how higher education is using HubSpot to improve student recruitment and retention efforts.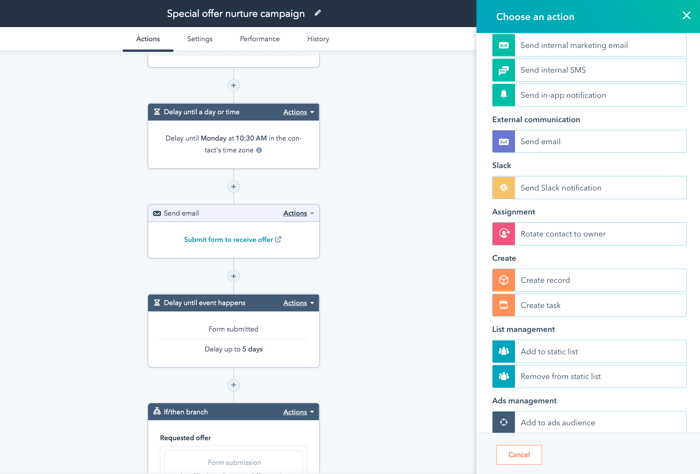 How do HubSpot and Slate compare in the following categories?
Marketing Automation
HubSpot: HubSpot's bread and butter is marketing automation. It enables schools to deploy thousands of emails, create audiences, send SMS messages, and create complex student profiles based on business rules and triggers. If a prospective student engages with your marketing by viewing a certain webpage, clicking on a Facebook Ad, or filling out an inquiry form, HubSpot can likely track it, add it to the prospective student's profile, and trigger a plethora of actions based on the engagement. HubSpot's workflow tool is top-notch and extremely user-friendly, allowing enrollment professionals to create complex logic using if/then branching for custom marketing automation.
Slate: Slate offers email automation and lead management automation. And while it does have workflow functionality, its workflows do not allow marketers to deploy communications when a prospective student takes a desirable action in the marketing funnel. Remember, Slate is not a marketing tool.
Customer Relationship Management (CRM)
HubSpot: HubSpot has a smooth, easy-to-use CRM interface. Add prospective students to the HubSpot CRM via manual list imports, with native HubSpot forms, or with an API. HubSpot also features out-of-the-box integrations with Salesforce, Zoom, and several marketing software programs. Build custom reports, custom lists, and view the entire contact property history and contact engagement history of each contact in the HubSpot CRM.
Slate: Slate's CRM allows you to review and manage all interactions, communications, applications, test scores, and application material for all prospective students in the CRM. You have the ability to create custom or out-of-the-box integrations with your SIS, including PeopleSoft, Banner, Colleague, and many more. You can also add prospective students to the CRM via list imports, manually, or with a native Slate form. While it may not be the most user-friendly to use, the Slate CRM is built for education.
Content Management System (CMS)
HubSpot: Host an entire website or just a few landing pages with HubSpot. Developers and enrollment marketers alike can create responsive web page and landing page templates so anyone, of any marketing experience level, can easily add content to them. In HubSpot, use the CMS tools along with personalization tokens and smart content to deliver truly unique and targeted information to prospective students on your web pages.
Slate: Hosting an upcoming event or looking for a dedicated webpage for your inquiry form? Slate can host web pages (as long as you're willing to use a subdomain) to capture leads, but cannot be used to create your school's website or manage content for your website.
Social Media Management
HubSpot: After you integrate your school's social media accounts with HubSpot, you can schedule and deploy posts natively (your social media team will thank you later). Then, you can track the results of your social media posts, including click engagement, views, likes, and better yet, conversions. HubSpot will even track how many inquiries, guide submissions, and landing page views were attributed to your social media post.
Slate: Slate does not provide social media planning, scheduling, or reporting tools on its platform. You can compose and deploy Twitter tweets and Facebook posts from Slate, but you can't schedule these posts to deploy at a future date and time, and you can't get analytics from those posts as it relates to the overall impact on marketing efforts.
Hosting Applications
HubSpot: HubSpot does not have a native tool for enrollment teams to build a login portal or for prospective students to create an account who are ready to apply.
Slate: With an admitted students portal, account registration forms, applicant status portals, and more, Slate has solutions to manage students from application started through the enrolled stage of the applicant journey. Create an application, access application information for an applicant, and even send admit decision letters (with virtual confetti!), all on the platform. Slate makes processing applications easy.
Analytics and Attribution Reporting
HubSpot: HubSpot provides analytics and attribution reporting for almost, if not all, marketing activities deployed via its platform. For example, marketers can see how many landing page views to a program page were attributed to a social media post deployed days ago, or how many form submissions were attributed to an inquiry communications email deployed last week. Custom reporting in HubSpot allows enrollment marketers to drag and drop data into reports, cross reference data, and see marketing impact on bottom-line enrollment numbers. On HubSpot, you can analyze data on each landing page, website page, email, social media post, and ad.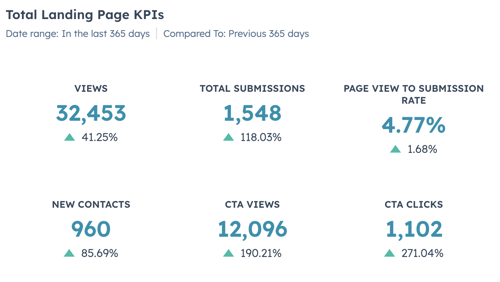 Slate: Web traffic, email, and Facebook Ads can be tracked via Slate's "Ping" analytics service. Create reports and schedule weekly reports to be deployed to your email inbox. Create cluster reports, post-interview reports, and report filters based on tracking URLs and other query parameters. Another Slate claim to fame is predictive modeling about a prospective student's next steps (based on past behaviors) that helps inform admissions teams on the best engagement opportunities.
Customer Support
HubSpot: HubSpot advocates for the inbound marketing methodology, rooted in the theory of attracting customers by creating valuable content and experiences tailored to them. That requires ample educational content, and that's just what HubSpot provides its users. As a paying customer, you have access to talk, chat, or email a HubSpot representative. Or, you can search HubSpot's Knowledge base (for ready-to-go information on implementing/using HubSpot's tools), HubSpot Academy (get certified in HubSpot tools and marketing tactics), and HubSpot Community (pose a question and you're sure to get one of HubSpot's 167,000 other users to help you out).
Slate: Founder and CEO Alexander Clark is the face, support team, and customer success team at Slate. Well, not entirely, but he has been known to push out updates himself overnight. Slate does have a support team and some support videos to help new customers who are launching the product, but many still claim implementation (and the learning curve) were much longer (and steeper) than expected. That's not atypical of a platform with so much to offer.
Want to learn more about using HubSpot for higher ed? Access this slide deck for more details on: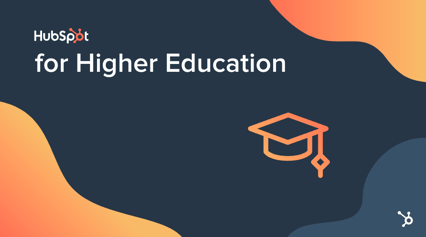 The problems that HubSpot solves for higher ed
How HubSpot tools are designed for colleges and universities
Which schools are already on HubSpot and which hubs they use
The results and ROI for schools using HubSpot
So, which platform is better for Enrollment Marketers?
If your role is to attract new leads and prospective students, grow your applicants quarter after quarter, and increase yield, you're likely going to find HubSpot your new favorite tool. If you are looking for a better admissions, application, and applicant management tool, Slate might be the platform calling your name.
When it comes to marketing your programs to generate new leads and inquiries, and to nurturing them into applicants and enrolled students, HubSpot is your Swiss Army knife (while Slate is a spoon).
When it comes to hosting an application, managing application forms and information, and deploying acceptance/rejection letters, Slate is your tool (for now).
The bottom line — don't try and use these two platforms to achieve the same goals. Save HubSpot for all things marketing, and Slate for everything having to do with admissions management.
Better yet, if your budget allows, achieve the best of both worlds by integrating a marketing-first platform in HubSpot with an admissions platform in Slate with HubSlate. HubSlate is the first-of-its-kind two-way integration that enables your enrollment marketing teams to better leverage HubSpot's marketing automation software and Slate's enrollment and student success management tools.