Higher ed has been waiting years for a tool like HubSpot. For an industry that frequently gets dubbed as "slow to change" and "slow to adopt", HubSpot is the one tool to NOT miss the boat on! Advanced attribution reporting, customer journey analytics, and a robust suite of recruiting and retention tools are just a few reasons why higher ed needs HubSpot.

In this post, we make the case for HubSpot for Higher Education and some of the key ways institutions can utilize HubSpot to improve recruitment and retention efforts.
What is HubSpot?
Like most modern CRM (Customer Relationship Management) tools, HubSpot can perform a wide variety of marketing and sales functions for institutions. Where it beats out the competition has much to do with its suite of "Hubs" that support cross-institutions functions; not just marketing and sales, but also operations and customer service. Not to mention the incredible user-friendliness that makes the lives of all types of marketers, including enrollment marketers, easier.
The Hubs
HubSpot features 5 "Hubs": Marketing, Sales, Service, Operations, and CMS (for hosting websites). Each Hub plays nicely with HubSpot's core functionality; it's a CRM tool. The HubSpot CRM allows institutions to collect, document, and track prospects and students across the student lifecycle. Each Hub plays a key role in an institution's core student recruitment and retention strategy, but for institutions with limited budgets and resources, we typically find Marketing Hub and Sales Hub provide enough functionality for basic to intermediate recruitment and retention strategies.
CRM, Data Collection, and Marketing Automation: The Powerhouses
Data about your prospects, students, and alumni is critical to any marketing strategy in higher education. This includes not only the ability to store prospect and student data, but organize it, ensure its accuracy, and collect it from various sources, including any data that flows in from other digital platforms. We're talking about one central place (the HubSpot CRM) that captures the entire current and historical digital footprint of prospects and students across the lifecycle — from the moment of first interaction through graduation.
With HubSpot, institutions can collect robust digital footprint data on prospective students. From website pages visited to events attended, email opens and clicks, and even clicks on social media posts, each digital touchpoint is recorded to the contact record within the HubSpot CRM. As a result, higher ed marketers can be highly creative and granular with the ways they segment and communicate with prospects and students. HubSpot allows enrollment marketers to paint much clearer pictures about the prospective student journey and in turn, make better, more educated decisions about how to spend marketing dollars.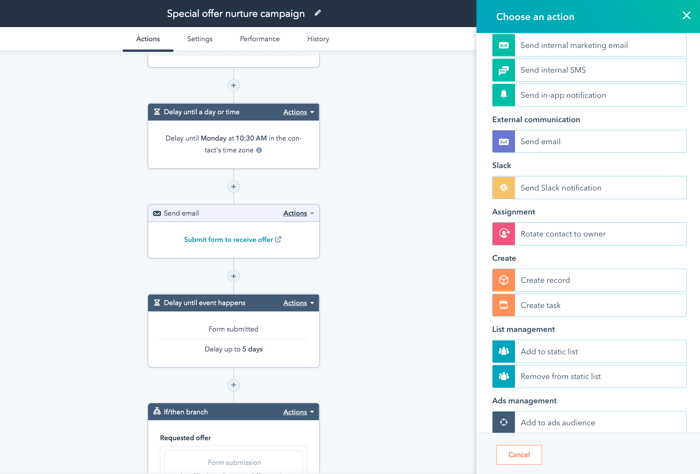 We can't talk about HubSpot without mentioning marketing automation. Think custom-crafted comm flows, text/SMS message cadences, and the ability to create hyper-personalized advisor outreach sequences to engage prospective students. HubSpot's "workflows" tool is a powerhouse, allowing enrollment marketers to automate several different components of their marketing and outreach strategy and in turn, focus on converting those high-value prospective students.
Why Higher Education Needs HubSpot
It's a true Marketing Tool unlike Salesforce and Slate
HubSpot allows enrollment marketers to spin up beautiful landing pages, deploy stunning emails, and painlessly architect marketing campaigns that actually stay on brand. Unlike Salesforce and Slate, HubSpot originated as a marketing tool dedicated to running high-powered marketing campaigns. In fact, there's an entire campaign tool that allows marketers to organize and collect data from ALL assets associated with the marketing campaign, including emails, text messages, landing pages, forms, call-to-actions, digital advertising, and more.

While Slate and Salesforce have the ability to create lead generation forms and landing pages, you'll often face a limitation in the visual customization capabilities and reporting metrics for those assets. It often makes it hard for institutions to stay on brand while also creating any semblance of a conversion-centric landing page that actually attracts and converts prospective students.
Reduce Your Complicated Tech Stack
We see it time and time again in higher education — schools piecemealing together 5+ platforms just to run basic marketing campaigns:
Salesforce or Slate for your CRM/Application
MailChimp to deploy Emails
Hootsuite for Social Media management
Mongoose for Chat & Texting
Calendly for Advisor Meetings
Ellucian for your SIS
Tech stacks with this much complication lead to hair-pulling… not only when trying to measure the success of campaigns, but also as it pertains to centralizing prospective student engagement data. Some engagement data is stored in one platform while other data is stored in another, making even basic segmentation a daunting task. Using HubSpot immediately shrinks that tech stack; in the example above, HubSpot can replace just about everything. What HubSpot can't currently do is host your institution's application or SIS. But remember, HubSpot is a marketing platform first!

Most institutions will maintain a separate system for hosting their application, but use HubSpot for everything in between. Some schools choose to integrate application systems to HubSpot to ensure data transparency and accuracy between the two systems (in other words, ensuring that both systems show John Smith as an applicant and Jenny Doe as an inquiry).
Here's how to integrate HubSpot with your institution's CRM without spending a penny.
Attribution and Source Reporting
Knowing the marketing channels that result in the newest, high-quality prospects is critical to making decisions about future recruitment efforts and campaigns. At the end of the day, you need to be able to answer the question "What's working and what's not?" as it pertains to student recruitment. Are comm flows pushing prospects further down funnel? Are Google Ads resulting in new, quality new leads? How about the quality of our leads from LinkedIn Ads? Are prospective students finding us organically via a Google search? Maybe a professor's research is driving a steady flow of new prospects into the pipeline. Whatever marketing channel and tactic you deploy, it's critical to be able to measure its effectiveness; that's exactly what HubSpot allows you to do.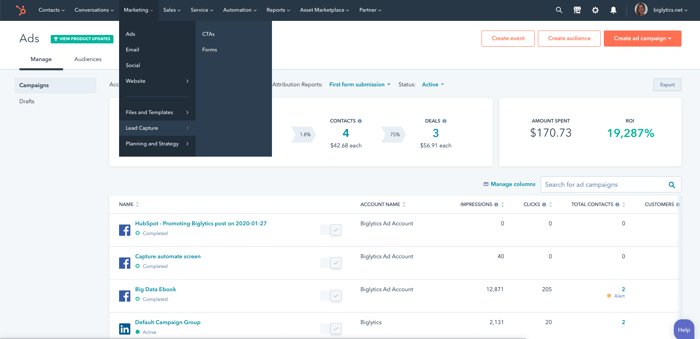 Higher ed uses HubSpot to answer questions like:
Where are my new prospective students coming from?
Which marketing channel contributed the most conversions during our recent campaign?
Which ads are resulting in the highest number (and quality) of new prospective students?
On average, how many events do students attend before enrolling?
What was our strongest (and weakest) performing marketing channel last year (or month/quarter)?
Deeper Insights into the REAL customer journey
Most schools don't know who their prospects are (or anything about them) until they submit an inquiry form. That leaves a lot of unknowns prior to the point of inquiry about who these prospects really are, where they've come from, and what content they've already read on your website! HubSpot allows schools to start collecting information on prospective students before the point of inquiry. At the point of inquiry, HubSpot retroactively pulls in historical information about the prospect, including the website pages he/she has already viewed, the call-to-actions he/she has already clicked, and even IP location data.

Uncovering the REAL customer journey has HUGE implications for enrollment and admissions teams — what some enrollment marketers believe to be a customer journey that starts at the point of inquiry actually becomes a journey that starts with a Google search or the click of a link from a referring website or blog post. Those insights are invaluable to adjusting and optimizing recruitment efforts and marketing campaigns.
HubSpot for Higher Ed
HubSpot is the top marketing platform for higher education institutions — not only for its robust suite of tools, but also its ability to simplify the higher ed tech stacks, answer critical attribution and marketing performance questions, and also uncover the real prospective student journey. For more on how to use HubSpot at your institution and to see a demo of HubSpot, request more information.
Want to learn more about using HubSpot for higher ed? Access this slide deck for more details on:
The problems that HubSpot solves for higher ed
How HubSpot tools are designed for colleges and universities
Which schools are already on HubSpot and which hubs they use
The results and ROI for schools using HubSpot