Enrollment marketing has always been a changing and evolving space, but that was accelerated by the pandemic. There's a whole new set of challenges for enrollment marketers who have had to adapt the way they think about recruiting students and differentiating their institutions from competitors.
"What used to work" isn't good enough anymore. prospective students have higher expectations than ever for the way they interact with schools. They want to consume content and explore brands on their own terms, they expect that the application process will be easy and intuitive, and they want to be able to find the information they need quickly.
This isn't a bad thing.
In fact, it's a very good thing for enrollment marketers who recognize these trends and are able to move on them.
---
Schools need to be able to clearly and definitively articulate:
What differentiates them from competitors
Which areas of study they offer
How easy the application process is
The intangibles that make the on-campus experience unique and unmatched
---
To do all of these things well, you'll need to blend the tried-and-true tactics with new, forward-thinking ideas. Here are three ways to recruit students in this new era of enrollment marketing:
1. SMS Texting and the Power of Multichannel Communication
You probably know the old saying, "The best time to plant a tree was 20 years ago. The second best time is now."
The same principle applies when it comes to creating a proactive, intentional SMS texting strategy. If you haven't already leveraged texting into your communication strategy, then 2022 is the perfect time to start.
At this point, most schools are using some form of approach to texting, whether it's to set reminders or to keep students aware of important deadlines. However, SMS text reminders for when a student has an overdue book at the campus library is not a texting strategy.
Incorporating texting effectively means fitting it within a larger multichannel communication strategy that leverages:
Email
Social Media
SMS Text

Phone Call
Live Chat
Video
---
Ultimately, your job is to make it as easy as possible for prospective students to engage with your school. Everybody has their own preferences for interacting with schools, so it's important to meet students wherever they are and give them the chance to have meaningful conversations with you in the medium of their choosing.
So, what does that look like in real life?
Say that you're organizing an on-campus open house event next month. An effective multichannel approach to promoting that event will pull all the right levers in the right order and hit your prospects with the right messages at the right time.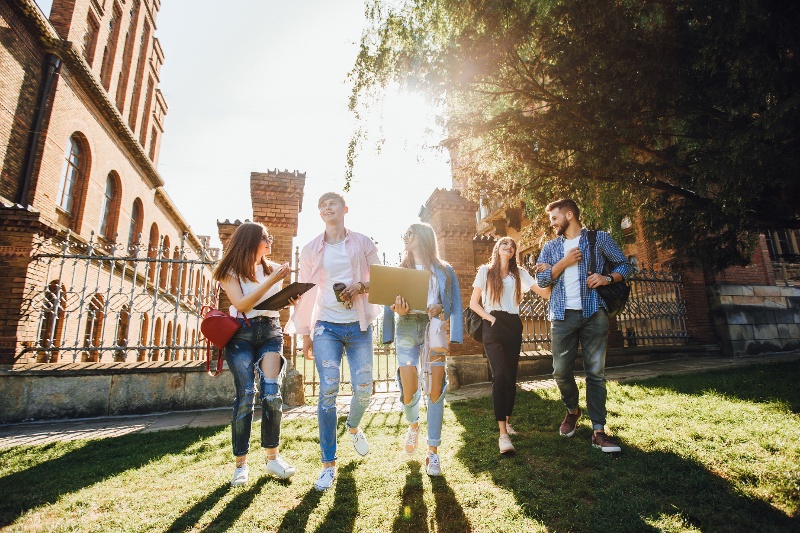 You could start by promoting the open house with digital ads, organic and boosted social media posts, invitation emails to your prospect contacts, and even a chat function on your website to share the event with your site visitors—whether that's live chat or a chatbot.
By spreading the word across all of these digital channels, you're more likely to hit more people and to hit people in the way that they prefer to interact with brands.
Once your registrations start coming through, you'll be able to start connecting with your sign-up list to not only share information about the event but to learn more about them and start building a relationship with this audience.
You can do this with reminder emails and—you guessed it—SMS text. Remind them about the event information, share a little bit about your school, and don't hold back on how excited you are to meet them.
After the event, you should follow up with additional emails that outline the next steps (hint: think viewing program pages, downloading eBooks, starting their application) and answer any questions they may have. You could also have your team make personalized phone calls to each attendee to express their gratitude for attending and to help guide them through the next steps.
By reaching across all of these channels, you'll impress your prospects (and their parents!) and help build your brand as a forward-thinking, digital-first school.
2. Be Intentional with Workflow Automation
Enrollment marketers are busy.
Understatement of the century, right?
If you're not using workflow automation the right way, you might be missing out on opportunities to streamline the way you work and free up your time.
How much of your time is currently spent on RMI responses, event reminders, application follow-up, etc.? These are all super important tasks, but they can be quite time-consuming, especially as you intend to grow your programs over time.
However, if all of those things were handled by proactive, well-thought-out workflows built out on a CRM like HubSpot, how much time would that free up for you?
What would you be able to do with that time? How would that affect your important KPIs, such as enrollment, retention, training staff, and reducing turnover?
Of course, it would be wonderful if you could have meaningful, real-time conversations with every single prospect at every single touchpoint, but that's simply not a scalable model. The challenge is not to sacrifice that personal touch when you build your workflows.
There's a delicate balance that needs to be struck between automation and personalization. You still need to find a way to be friendly, valuable, encouraging, and most of all personalized with your messaging, which can be a challenge when building automated workflows.
It's important to remember to avoid transactional interactions that make your prospect just feel like a number. If you're only giving them facts like deadlines and eligibility requirements, they're not likely to engage with your brand.
Instead, find ways to be fun, creative, clever (but not at the expense of clarity!), and show the personality of your school while making the prospect feel unique.
It's also important to include intentional calls to action so that the reader always knows what the next step is and how to get there. If you give them too many choices or make it unclear what needs to happen next, you may lose their attention.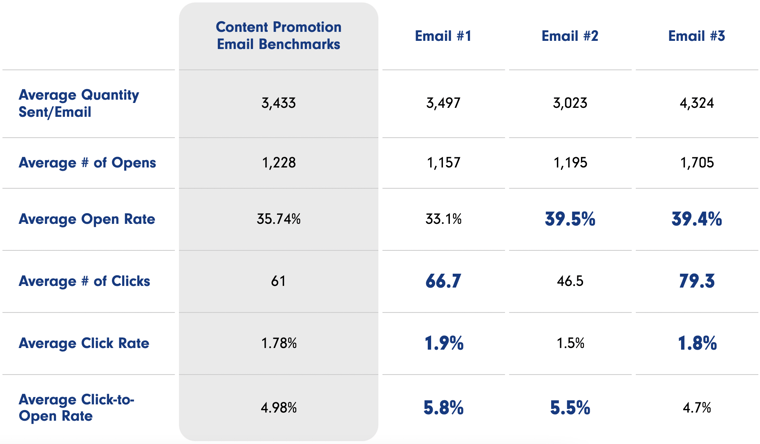 Remember, it takes multiple interactions with prospects in order to hit your desired results. Automation should not just be one follow-up email every time someone submits a form. In fact, according to our Beat the Benchmarks Report, the email click rate is actually the highest on the 3rd email in a sequence!
3. Target Parents in Your Enrollment Strategy
Did you know that parents are the #1 influence in determining which school a student picks? We learned that from our friends at VerityIQ.
Now, ask yourself this: how much of your enrollment strategy incorporates the parents?
Parents are super influential in the college decision process, especially when you have college fairs and open houses that are targeted toward younger students like sophomores and juniors in high school.
So, how do you bring parents into the conversation early and often?
For starters, when you have those types of events, you should have breakout sessions and marketing collateral geared specifically for the parents or guardians. Their priorities when looking at schools are obviously a little different from their children.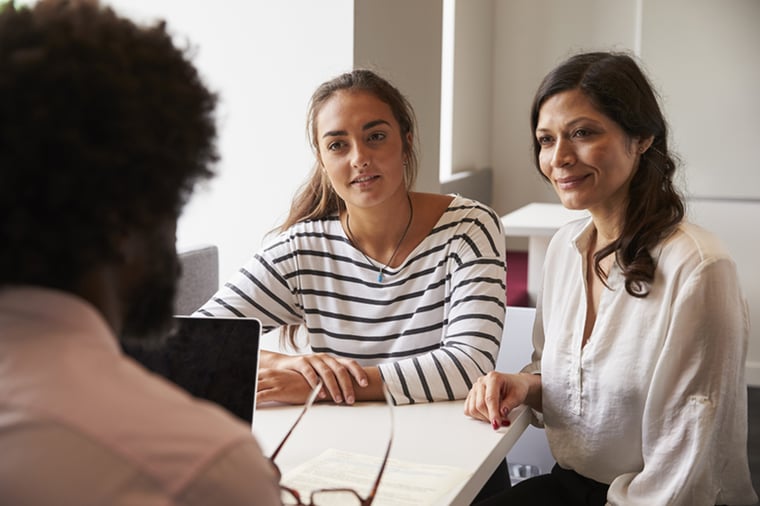 Be ready to share the things that parents care most about: campus safety, graduation rates, job placement rates, affordability, etc.
Not only will they appreciate the information that you're providing to them, but they'll also be impressed that you made the point to bring those conversations to the forefront.
They'll recognize that you're being intentional about addressing their concerns and that'll definitely be a factor when they're narrowing down their lists of schools.
When you have these types of events, it's also a good idea to have a separate sign-in sheet for parents so you can collect their information. That way, you can build follow-up workflow automation not only for their students but for the parents as well.
Building a relationship with the top influence in these prospective students' decisions will go a long way toward your application and enrollment numbers.
Building Student Recruitment Success
The world of enrollment marketing is changing and we don't know exactly where it will take us in the future—but we do know that it's important to be proactive, to listen to our prospective students and their parents, and to bring a digital-first approach to our strategies.
That's what these tactics are all about: leveraging technology, meeting your students where they are, and looking for new and innovative ways to achieve your enrollment objectives.
To perform these tactics well, you must first understand your as-is state and how you compare to industry standards.
Do you know how prospective students are engaging with email? How are virtual events affecting recruitment? Are you considering all three prospective student stages when creating content? Look no further! See how your institution stacks up against other schools across these primary marketing tactics.
Download our free guide, DD's Deep Dive: Enrollment Marketing Benchmarks Report to learn:
Benchmark data for four primary marketing tactics: event marketing, email marketing, digital advertising, and content marketing
New behaviors of prospective grad students as they research and journey through the applicant funnel from initial interest to application completion
Specific insights on which tactics are the most effective in engaging and converting prospects at all stages