Understanding what it takes to have a strong SEO game is crucial when it comes to boosting marketing efforts for your university. SEO is a long play that leads to greater sustainability in the enrollment marketing industry. With an effective SEO content strategy, you will have the ability to tell the story of your institution in a way that is authentic and competitive.
But - SEO takes time and discipline to get right! So, you might be asking yourself, 'Where do I even begin to find the time to start implementing SEO?'
Well, you're in luck! With the amount of overwhelming content available about SEO, we decided to break it down for you. We recently hosted a webinar, "How to Take Your School's SEO Game from Zero to Sixty" to help you get started on improving your school's organic search rankings. It will empower you with the context, frameworks, and tools you need to build a solid game plan for your school.
Co-hosted by Jamie Gleason, a 15-year veteran of the higher education industry, and Zach Busekrus, Director of Growth at DD Agency and Founder of Enrollify, we share our insights from helping schools like Cornell, Baylor, and West Virginia University win top spots on Google SERPs...and we show you exactly how we do it.
Watch the recorded webinar and learn:
The

fundamentals of how search engines rank content so you can become equipped with a framework for how to build an SEO strategy for your school.


Actionable tips on how to conduct effective keyword research and how to implement tactics into your overall SEO strategy.


Plus, 10 minutes of Q&A, where industry professionals like yourself brought up challenges and questions they are faced with when it comes to SEO.
Gain a deeper understanding of the basics of SEO so you can generate easy wins around key ranking factors. After all, the majority of online traffic is driven by search engines.
That's why we took a deep dive into the fundamentals of SEO - so you can begin to gain a deeper understanding of where to start when it comes to developing a winning strategy for your university. When set up correctly, SEO is a powerful online marketing channel that can continue to pay dividends over time.
Watch now and then download the slide deck and share takeaways with your colleagues👇
Need more convincing on why SEO is important?
Check out, Three Reasons Why SEO is Critical for Successful Student Recruitment, authored by co-host Jamie Gleason.
Learn why appealing to the Gen-Z audience must include a strong SEO strategy.
Find out why most undergraduate enrollment marketers need to make SEO more of a priority in the coming year.
Learn how higher education professionals can adapt to an ever-changing digital landscape.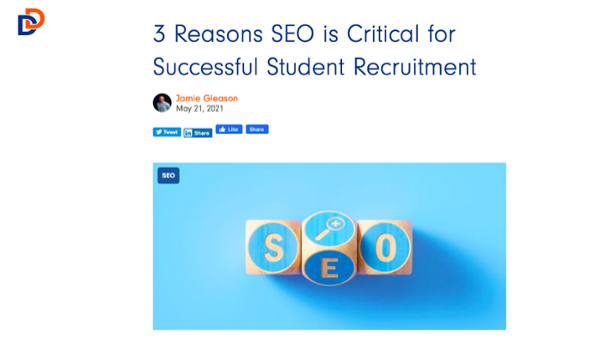 Ready To Take The Next Step With DD Agency?
We're ready to hear from you! Schedule a call with Zach, co-host of the webinar, and he'd be happy to answer any questions you may still have after watching the recording!