I'm not here to tell you that you need a CMS, CRM, email automation, and a data analytics tool. These are part of your school's larger marketing tech stack and are the very basic components to both higher education marketing and data-backed decisions. We could write an entire blog post dedicated to the best CMSs or CRMs for higher ed (check out my post about HubSpot and Slate), but instead, my goal is to suggest supplemental tools for your digital marketing toolkit.
These browser plugins and smaller software tools (most of which have free versions) will enable you to do your best work attracting and engaging prospective students as an enrollment marketer.
Best Marketing Tools for SEO
Keywords Everywhere
You might've heard of conversational marketing already, or the use of real-time conversations, targeted messaging, and chatbots to accelerate potential prospective students through the applicant journey. Conversational gating takes a page out of the conversational marketing playbook.
When conducting a Google search, Keywords Everywhere provides a list of related keywords, related long-tail keywords, and "people also search for" keywords. If you're looking to expand the number of keywords your program pages and content rank for, the Keywords Everywhere browser extension is a quick, free way to auto-generate hundreds of keywords related to the queries you type in. Using those related keywords, you can devise a strategy to expand topic clusters and your overall SEO efforts.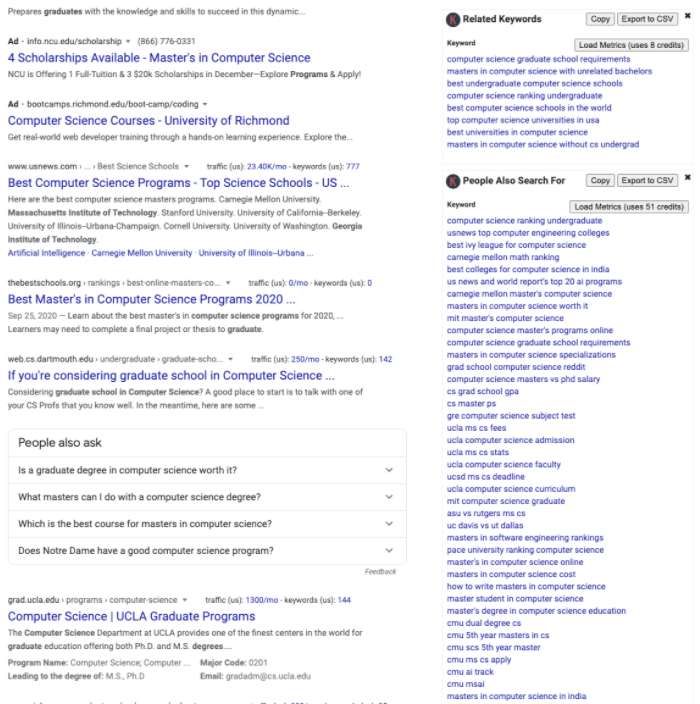 SEMRush
You want prospective students to be able to easily find your school on Google for more than just school-branded keywords. But what keywords are you already ranking for on the first page of Google and which keywords are worth focusing on next? How do your rankings for certain keywords compare to your closest program competitors?
SEMRush, specifically its keyword research tool, allows you to discover the best keywords to drive meaningful organic traffic to your school's website. From monthly keyword search volume to difficulty scores, SEMRush (or any SEO keyword tool) is crucial for making smart SEO decisions.
Best Marketing Tool for Content Creation
Grammarly
Grammarly is more than just a spell check tool for your content; it's a virtual writing assistant that can check the tone of your writing, formality, provide synonym suggestions, and even review your writing for plagiarism. Get the Grammarly browser extension and use these features in Google Docs, Gmail, LinkedIn, and Twitter.
Enrollment marketers who create new content and write blogs often know that content should be different in tone and professionalism at different stages of the prospective student's journey. Not only will Grammarly check your spelling and grammar, but it'll also ensure you strike the right tone in your message delivery.
Best Marketing Tool for Data Integration
Zapier
You just started working with a new CRM and need it to integrate with another tool you frequently use. Your IT team says it'll take 3-4 months to complete the integration project but you need a solution now. Chances are, Zapier has the solution. Zapier allows non-tech experts to create simple integrations and automation without code so that they can move information and data between platforms, apps, and software easily.
From WordPress to Calendly, Zoom, HubSpot, Salesforce, and more, consider Zapier for quickly syncing the data you need into the platforms you use the most.
Best Marketing Tool for Personalized Videos
Loom
Loom is a video and screen recording platform (with free and premium features) enabling you to create videos, tutorials, personalized video messages, and more. Get the free Loom browser plugin and start recording yourself or your screen (or both) with just a few clicks. Loom hosts and stores your videos so that you can go back and reference them later (and access them via the web).
Let's say there's a particularly difficult or confusing step in the application process for your prospective students. Use Loom to quickly whip up a screen recording of how to navigate that particular step and link to your explainer video in an email. Or, maybe you want to congratulate recently accepted applicants with a personal touch. Create a brief 1-2 minute congratulatory video message using Loom.
Best Marketing Tool for Website Optimization
HotJar
Numbers alone don't paint the full picture about how prospective students are really interacting with your school's website. HotJar (and others like LuckyOrange and SmartLook) allow you to see how users are interacting with elements on your website, why they might be bouncing from certain pages, and why they aren't converting on your high-intent forms via heatmaps and screen recordings of live users.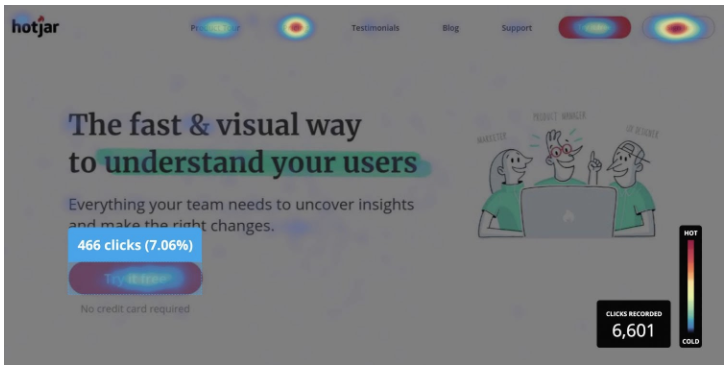 Is one call-to-action on your site getting twice as many clicks as another? Are people scrolling down to read the important, helpful information about your programs? When it comes to website optimization, HotJar can provide enrollment marketers with some great ideas for website A/B testing with insights collected from its heatmap and screen recording features.
Browser Inspector Tools
This last tool comes standard on all common web browsers: the "Inspect" tool. A browser's Inspection tool is powerful for web developers, but also for enrollment marketers with some web savviness. One of the most common uses for the Inspector tool for enrollment marketers is to determine if a piece of text on a website is linkable (often referred to as a block or anchor text) and can be linked to directly on the page. The University of Colorado has a great tutorial on how to do this, but here's our quick explainer:
On the webpage, right-click the section header/element you wish to inspect and in the popup menu, click "Inspect."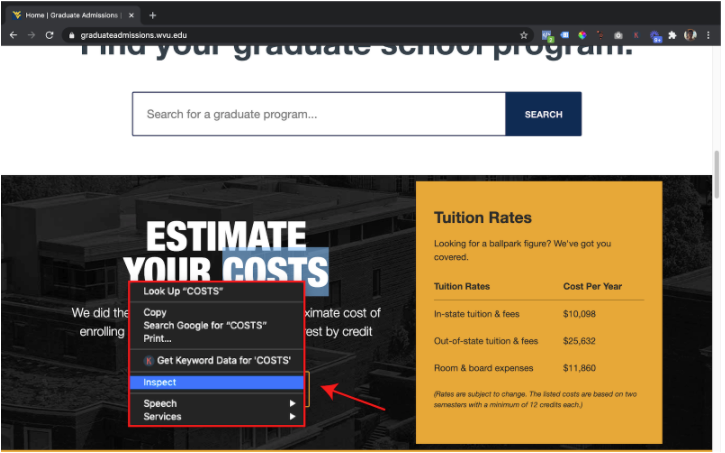 Next, look for the element's ID. This will look like "id=". Copy and paste the contents inside the ID of the element. If there isn't an ID, the element is not linkable.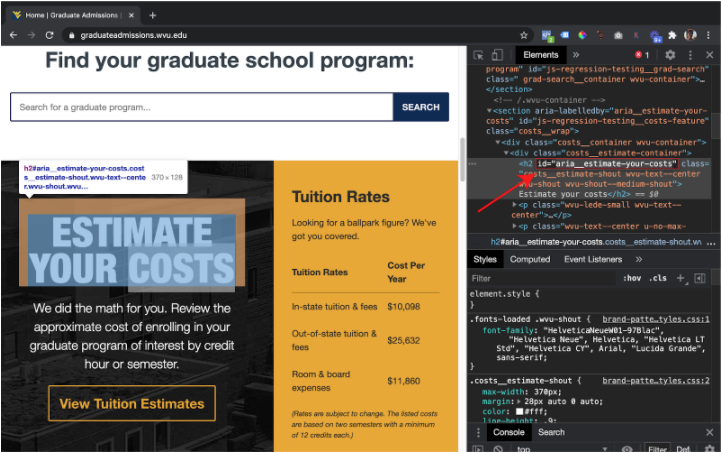 Now, you can use the element's ID in the URL of your link by adding a "#" and pasting the element's ID after the page URL. And that's it, that's how you use the browser's Inspector tools to link to specific tiers on your program's website pages!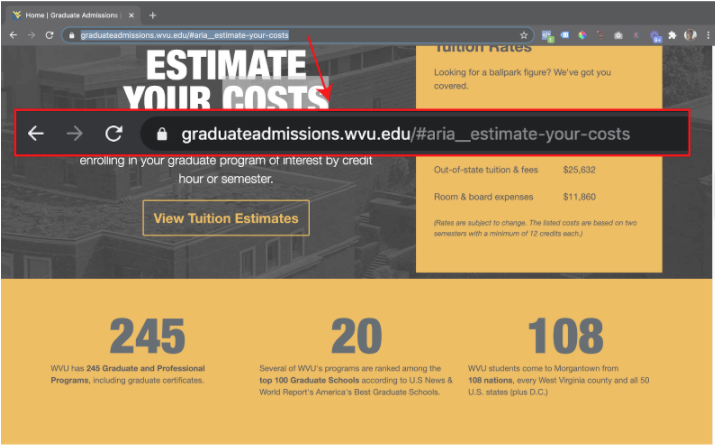 Other Top Marketing Tools for Higher Education
If you're interested in other tools to add to your enrollment marketing toolkit, check out Enrollify Chatter, a feedback platform with reviews from other enrollment marketers on the top software, marketing agencies, and services for higher education marketing and recruitment.
---
Looking to increase your organic search rankings? Access our on-demand SEO webinar to make a game plan.