As a typical first entry point for your prospects, your college website has always been a crucial instrument in your marketing strategy toolkit. And in a world where in-person campus visits are scarce, your college website has to pack a powerful punch.
According to one study of 10,000 incoming high school seniors in the summer of 2020, 85% percent of students said they relied more heavily on college websites for information in light of the COVID-19 pandemic, and about 39% said that they had discussed their options less with their counselors.
Prospects are counting on your website (now more than ever) to 1) deliver a seamless experience where they can quickly find all of the information they need, 2) give them a sense of the campus culture and student experience, and 3) offer a painless way for them to request additional details and get in touch with questions.
The reality is college websites aren't going the way of paper viewbooks anytime soon. While many enrollment marketers may lack total control of their site, there are plenty of elements that they can implement or advocate for.
I scoured the internet to find some of the best college websites, so you wouldn't have to. These are some of the components I saw over and over again (plus examples of my favorites!).
1) A short Request More Information form
You probably have an inquiry form of some type on your college admissions website or your college's program page. But how long is your form, or in other words, how many fields do you require a prospect to fill out before they can submit it? Having more than 4 or 5 fields (whether they're required or not) is bound to discourage and deter your website users who are short on time. Think about it: what if you were ordering at Starbucks and you had to give away your email address, birthday, nationality, etc. just to grab a scone?
A college degree is a major purchase, but there is plenty of time to route prospects through the applicant funnel. On an inquiry form, boil it down to the data you really need for your recruiters to effectively communicate with them. Usually, the best college websites have forms with just first name, last name, email address, and term of interest. If you have a CRM with advanced marketing automation features like Progressive Fields, you're able to have shorter forms with a lower barrier to entry and then have variable fields displayed for prospects based on previous data captured. If your CRM doesn't make this an easy task, you may want to consider upgrading or augmenting your tech stack (this is why many schools use HubSpot in addition to their application-based CRMs).
Members of Generation Z are even more apt to appreciate quick forms—seeing as how 45% of them are online "almost constantly" and 95% of 13- to 17-year olds have access to a smartphone. A bite-sized approach to college inquiry forms is likely to be much more effective. Plus, if you're a savvy enrollment marketer, you know that you can capture additional data as you engage prospects through the various stages of the applicant journey, and you offer plenty of conversion opportunities on your website and in your comm flows.
Elements of the best college websites in action:
Columbia University's undergraduate inquiry form has 6 fields, a stark contrast to some of its Ivy League counterparts with 16 fields.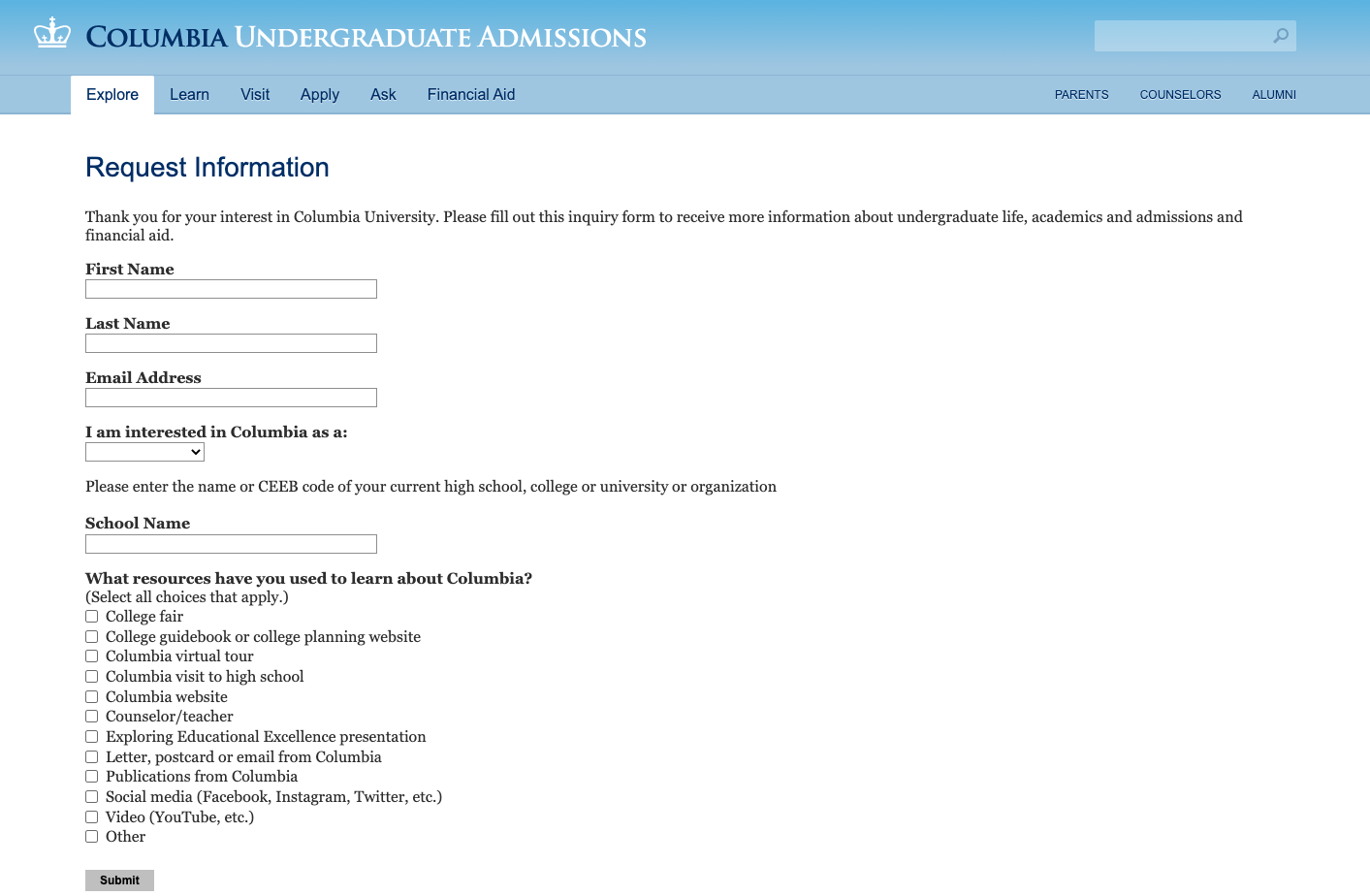 2) Blog posts with relevant keywords and CTAs
I saw admissions blogs (oh so cleverly titled "Admissions Blog") repeatedly in my search for the best college websites. You might argue that a blog name doesn't matter as much as the blog content itself, and you might be right, but it can't hurt to come up with a catchier, more compelling title. As far as the blog posts themselves, student and faculty profiles are popular go-tos for admissions blogs, as well as application FAQs and how-tos.
With a little keyword research, you can make your content work even harder for you and do much more than inform and entertain your prospects. Keyword research will help you generate relevant blog post topics as well as help you make solid strides in your organic rankings. (Check out one of our latest posts for how to develop a blog content strategy as part of your enrollment marketing game plan). I also saw several stories that ended without CTAs, meaning that valuable conversion opportunities were squandered. The best college websites include blog posts with clear calls to action at the conclusion (and sometimes throughout) — attend a webinar, download a digital resource, request more information, etc.
Elements of the best college websites in action:
Neumann University's undergraduate blog, called NeuDirections, has a post titled "5 Majors for Creative Thinkers and Critical Strategists" which has several links and calls to action, from a program listing to a digital resource about financing higher education.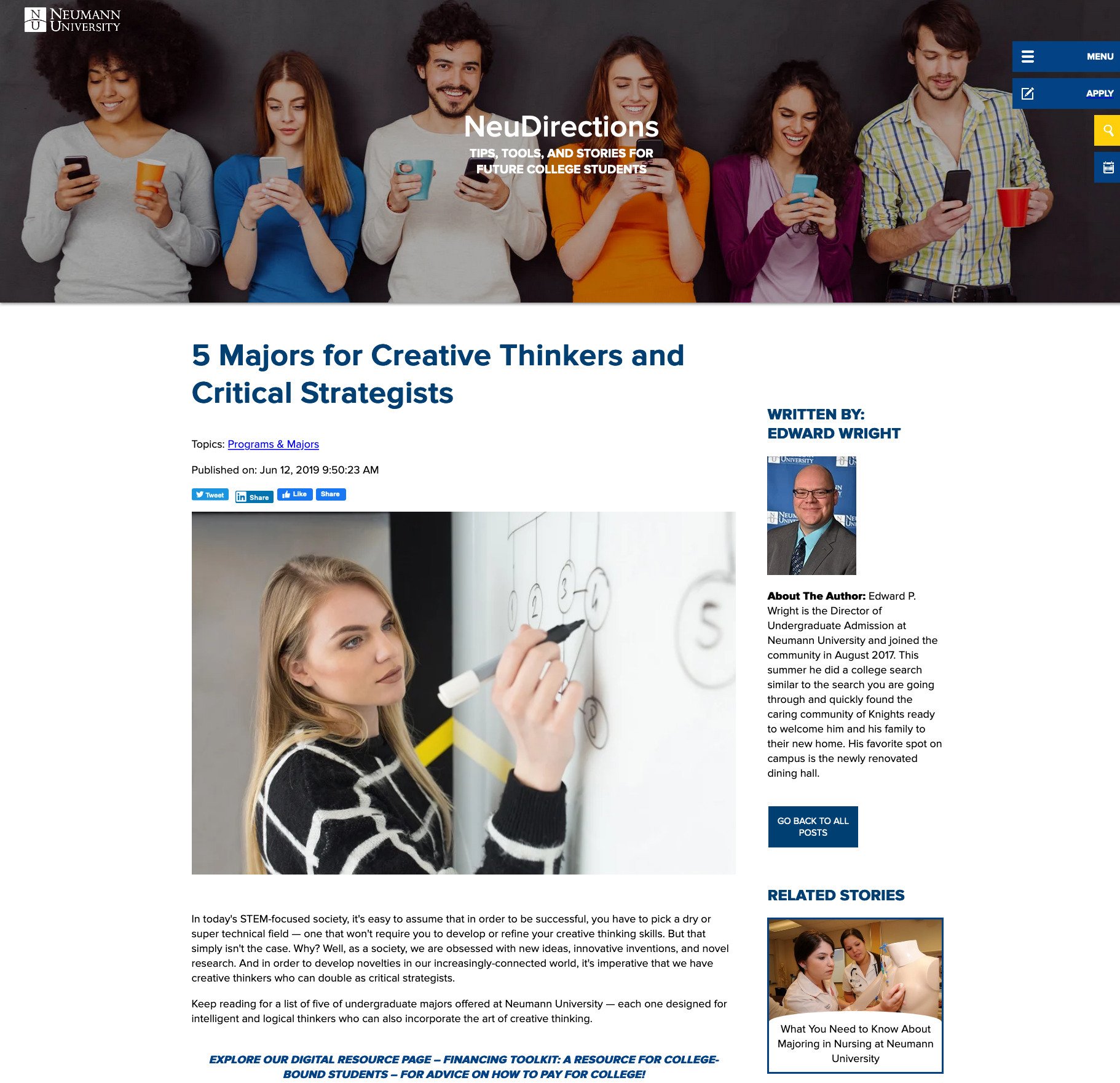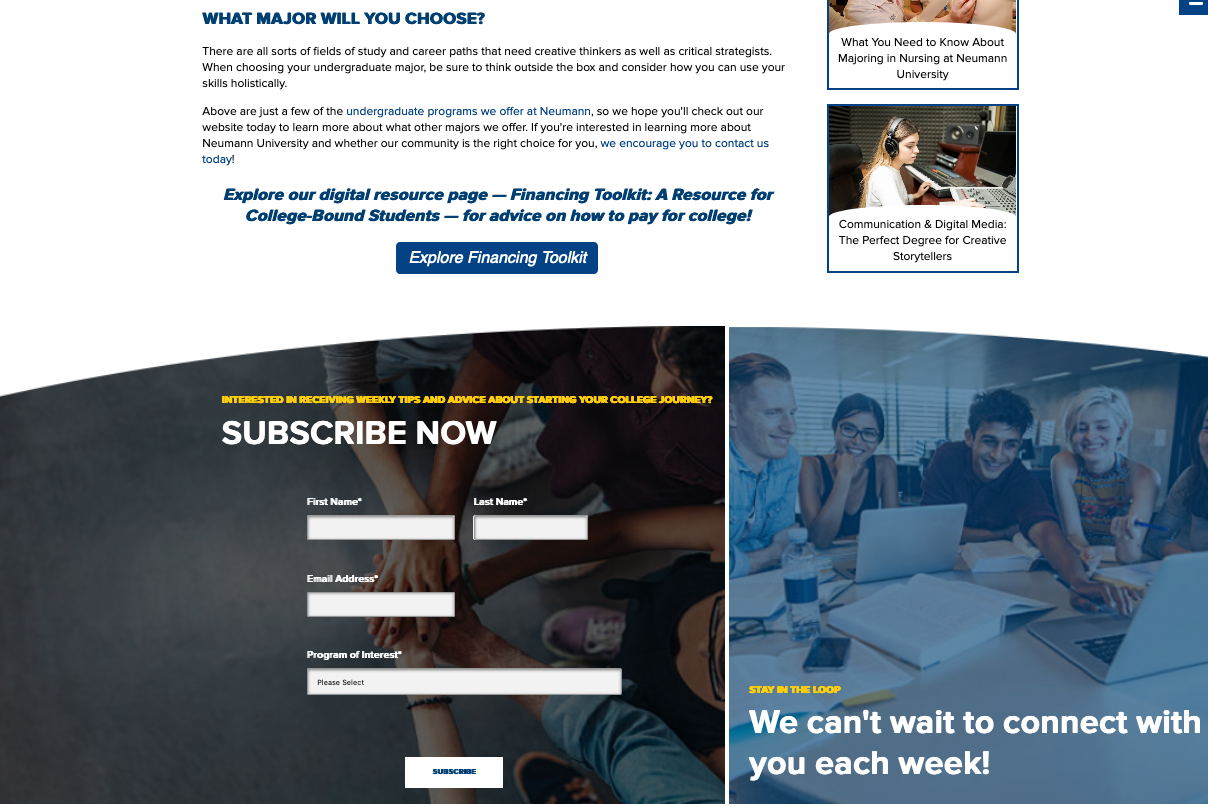 3) Effective and creative web design
I perused dozens of college websites for this blog post and while I found some gems, there were several duds. On the outside, the homepages were snazzy, unique and remarkably designed. But they either had poor navigation, were too cluttered, or their "guts" (subpages) were lackluster.
What the best college websites do differently is this: they build user experiences with impressive designs that complement the website architecture instead of detract from it. If you're an enrollment marketer with less control over your site than you'd like, advocate for these principles and provide input to the in-house team or agency that handles your next redesign.
For prospects today, your college website is one of dozens they might land on. Your site needs to capture their attention and be remarkably on-brand, while also boast an easy-to-use and accessible experience. Just because digital natives are likely to visit your admissions site doesn't mean you should lower the bar. In fact, it's all the more reason to elevate it, because the competition is fierce and the expectations are high. So, make your admissions events stand out, your program listing and other resources readily available, and your contact us page on-brand and unique.
Elements of the best college websites in action:
The University of Nebraska-Lincoln has a beautiful homepage with a clean navigation bar, news stories, Instagram snapshots, a list of colleges with links to undergrad majors, and even a chatbot. And their undergraduate Contact Us page is just as impressive with copy and design that embodies Midwestern friendliness.


4) Powerful program pages
Now that I've discussed the importance of effective and creative web design, the natural next step is to mention that a lot of the best college websites have excellent program pages. It's crucial that prospects are able to easily peruse the options for available degrees at your institution.
Case in point: In one survey of teenagers, 93% said their No. 1 reason for visiting a college website was to find out about majors/academic programs. This means you need to showcase your programs extremely well or risk frustrating your prospective students. Make sure your program pages are simple to navigate, include your brand colors, and exude your institution's personality and style.
Elements of the best college websites in action:
University of Central Florida's program page is not only incredibly helpful, it's actually delightful to use. You can either search among all bachelor's or graduate programs or you can click to see separate lists of bachelor's, master's, and doctorate degrees. They even include an option to browse by college instead of degree type.
5) A robust site search engine
Prospects shouldn't have to go through a torturous maze just to find what they're looking for. If they search for tuition, they should immediately see links to your tuition pages and not outdated or irrelevant results. That's why a solid site search tool is crucial. If prospects can't find what they're seeking on your website, they'll inevitably go to Google instead, where they could easily be drawn to other college websites. As an enrollment marketer, your mission is to keep people on your website pages and to continue to deliver value to your prospects for as long as possible.
In fact, over 43% of visitors use site search, according to a survey of almost 200 higher ed web professionals. And more than 70% of respondents said that website search is more essential to visitors now than it was in 2016.
Elements of the best college websites in action:
University of Nebraska Omaha has a robust site search tool — not only is it visually appealing (compared to a lot of eyesores I found), but it is also fast, inclusive, and flexible for the user. You can easily filter results from social media, news, and events and search for programs and staff members. It even allows you to refine results by date with options like "2020" and "past month."

Optimizing your college website will reap dividends for your bottom line—attracting, engaging, and delighting your prospects and leads. Take the time to figure out which elements of the best college websites you can immediately put into action, and which ones you can add to a longer-term marketing strategy for student recruitment.
Ready to craft a custom content plan?
We'll help you create a content strategy that really works! Learn more about our 8-week Content Strategy for Graduate Enrollment Marketing Cohort and sign up to start ironing out a foolproof content foundation. Save your spot today for the Content Strategy Cohort to take you from 0 to 60 in just 8 weeks!