Building an effective marketing and recruitment plan is still a crucial part of graduate enrollment management, but many of the rules have changed in today's digital-first, virtual-is-normal reality. Pre-Covid tactics won't work like they used to, so where do you begin?

7 Helpful and Updated Guidelines For Graduate Enrollment
We recently hosted a webinar, "The New Rules for Marketing and Recruitment in GEM" that uncovers the seven new rules for graduate enrollment marketing and recruitment, gleaned from recent successes from post-pandemic pivots. It also includes a recap of data-based insights from trends that are happening across the GEM industry right now.
Co-hosted with Fran Reed (VP of Enrollment and Marketing at Neumann University), we share our insights from over 33 years of combined experience leading and executing marketing and recruitment strategies, with a special emphasis on the new rules and trends we think a here to stay for enrollment marketing.
Watch the recorded webinar and learn:
The

7 New Rules for marketing to and recruiting graduate students


The Latest Trends since the start of the pandemic that will impact your enrollment marketing communications plan


How your school stacks up against the Industry Benchmarks for various enrollment marketing tactics (email, content, digital ads, lead gen, etc.)
Plus, discover practical ideas for digital marketing and recruitment tactics and gain a deeper understanding of how to compare your current results against newly updated GEM industry standards that account for the recent critical changes as a result of the COVID-19 pandemic.
Watch now and then download the slide deck and share takeaways with your colleagues👇
Pro tip: In the webinar, I highlighted the Enrollment Marketing Diagnostics Checklist — download the template here and track your existing benchmarks (so you can beat them later!).
Find Out the Freshest Industry Benchmarks
Do you know how prospective students are engaging with email? How are virtual events affecting recruitment? Are you considering all three prospective student stages when creating content? Look no further! See how your institution stacks up against other schools across these primary marketing tactics.
Download our free guide, DD's Deep Dive: Enrollment Marketing Benchmarks Report to learn:
Benchmark data for four primary marketing tactics: event marketing, email marketing, digital advertising, and content marketing
New behaviors of prospective grad students as they research and journey through the applicant funnel from initial interest to application completion
Specific insights on which tactics are the most effective in engaging and converting prospects at all stages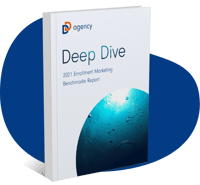 Ready To Take the Next Step With DD Agency?
Need help implementing the new GEM marketing and recruitment rules? We're ready to hear from you! Schedule a call with Shane, DD Agency's VP of Marketing, and he'd be happy to assess your as-is state and talk about what kind of recruitment marketing plan you might need to reach your enrollment goals. He can also answer any questions you may still have after watching the recording!